Creating a new website is a process that can be incredibly fun and exiting to do. However there are a lot of details that you might not think about, when first starting your website project, which can cost you both time and money in the longrun.
These steps are essential both if you're an aspiring webdesigner or if you're responsible for the marketing of a company.
I call these steps crucial, because changing anything on the website at a later time will probably involve both a graphic designer a web developer and possibly a copywriter, so if you're not careful, the cost just keeps adding up.
I've created this list in the most logical order starting with a birdseye view and going further into details as we go along.
So let's begin with the 11 most crucial steps to take before making a new website.
Define your audience
Creating a sitemap
Define your keywords
Writing your content
Finding the right images
Define your social media channels
Design a visual identity
Choosing a CMS system
Finding the right web developer
Choosing your domain name
Choose a hosting provider
1. Define your audience
Probably the most important thing to do is defining who your audience is. This will affect everything from the look and feel of your website to how you will communicate with your potential customers.
Graphic: mybusiness.com (with globe icon)
Who and where your audience is will also affect more technical things like what you domain name should be and where to host your website which we'll look at later.
Start by defining the basics to create a clearer image of your audience. What is their:
Age
Gender
Physical location
Language
And occupation
Let's go a step further and compare two scenarios where your client base is either private customers or businesses.
| | |
| --- | --- |
| B2C | B2B |
| Focus on personal benefits and emotions | Focus on business goals like increased revenue and ease of workflow |
| Personal focused look and feel | Corporate look and feel |
| Testimonials about customer experiences and personal benefits | Case stories with data regarding improvements for the company |
| Images of individuals or families in home situations | Images of employees in corporate scenarios |
| Private customers typically visit a website from their mobile phone | Corporate customers typically visit a website from their workplace desktop |
2. Creating a sitemap
Structuring your website is important to make it easier to create the content for your new website – but equally as important, to make your website easy to understand and navigate for your website visitors.
This can be done simply on a piece of paper a whiteboard or perhaps using Powerpoint to create an overview.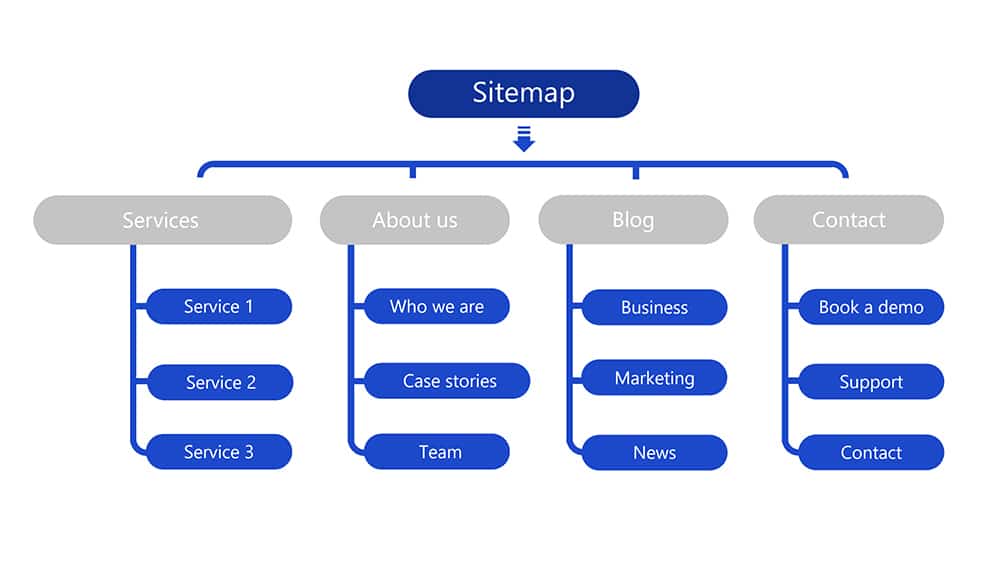 Remember if you for example have 4 services or products, to also add a page that gives an overview of these products and services. This page is also great to have when sending a link to prospective clients.
The top layer will become your top menu which ideally has a maximum of 5 pages plus an optional button for a call to action. Remember if you have trouble getting the bigger picture, then you website's visitor will definitely not be able to figure it out.
3. Define your keywords
Use some of the free or paid tools on the web to get a good overview of the search keywords that are used in your field of work. This will help your website become more visible in the search engines which will increase the traffic to your site.
The two most important parameters when selecting your keywords are searches per month and relevance to your business. When you've found your keywords you can use them by:
Including them in your product or service names and descriptions
Creating article categories for your blog
Including them in your client case stories
Also be mindful about using longer keywords that are more specific. These might not get searched as much as the simpler keywords, but they can help you get to the top of Google searches.
Since some potential customers will be ready to buy and some only will be in the early stages of the buying process, getting traffic both to your products and your related articles and case stories can be a good tactical move.
This allows your first time visitors to become more familiar with you and your products before making the decision to purchase.
4. Writing your content
Writing the content for your website might at first sound like an easy thing to do, because who would know what to write better than you, right?
But writing about your own business opens up a whole world of questions and especially dilemmas. For every thing you define the company as there are millions of things you rule out. So writing content is a journey and that journey is often a lot longer than you'd expect.
So begin writing your content at an early stage to have it ready for the actual website creation process. This will also help the webdesigner, since he or she now will be able to tailor each page to your content.
5. Finding the right images
Images are one of the most impactful things on your website's look and feel. Even the best website design will suffer if the images are not of decent quality. Luckily there are many sources to get images both for free and ofcourse paid.
I personally use Adobe Stock which gives you the first 10 images for free.
Alternatively you can do a quick Google search and find tons of free resources including Unsplash which has a huge library of royalty free images.
When that's said, hiring a photographer and getting real life photos of you and your business can give that extra to your website. This can also increase the trust in your business, since putting your own face on your website gives the impression that you are proud to represent what you offer.
6. Define your social media channels
Knowing beforehand which social media channels you wish to use will make the integration of these platforms easier for your webdesigner.
You webdesigner can even include the look of let's say your Instagram feed in the design to integrate it more seamlessly. Since you've already defined your audience in step one, it's easier to decide if you should use more customer or business focused social media channels.
7. Design a visual identity
Unless you've found a webdeveloper who is also a great graphics designer you need to get your visual identity ready before starting the actual website building process. Without it, the webdeveloper will not be able to sufficiently tailor the design to fit your brand, which will make it harder to reach and communicate your target audience.
So make sure to decide on the three to four elements that defines your visual identity. As an example you can see my own visual identity elements on my website:
The logo
The colorscheme which typically has a primary color and one or more secondary colors
The fonts which typically has one font for headlines and another for paragraph text
Your special sauce, like special graphics for your products, a recognizable pattern or fx a mascot
What is your own special sauce? What have you noticed as a great way to get a brand to stand out from the crowd, please let me know in the comments.
8. Choosing a CMS system
Choosing the right content management system for your website is crucial for the future development of your business. Some systems make it very fast to make a new website, but if you want to expand your website in the future, then those systems can limit to your options.
For that reason I recommend going with a more robust and future-proof CMS system like WordPress. The WordPress CMS system is great because:
OPEN SOURCE: it's open source and therefore has a huge amount of plugins that can enhance and upgrade your website's functionality
USER FRIENDLY: It has a user friendly interface called the Controlpanel which makes it easy to both create new content and administer your existing content
FULL CONTROL: You can host it on your own domain and therefore have full control over your website including any upgrades that you might need in the future
FINDING PROFESSIONALS: Another important factor is the availability of professionals that are offering support for you CMS system. This is a great advantage with WordPress which popularity makes it easier to find a skilled professional.
9. Finding the right web developer
Finding the right website designer and developer is extremely important both to the end result of your website, but also to the management and further development of your website after launch.
So, make sure to get acquainted with the designer or developer and get a good feel, if this is a person you would be comfortable cooperating with in the future.
Also take a moment to investigate the webdesigners portfolio and if possible, inquire a few of their clients about how the process went. If the webdesigner doesn't have a portfolio at all, then this is a bad sign and you should think twice before going forward.
10. Choosing your domain name
There are a few factors to consider when choosing your domain name. First and foremost it should be fairly easy to write, so make sure it's not too long. A common mistake is trying to get the product name or concept into the domain name like for example: city-energy-consulting.com thinking that it will increase search engine visibility.
However there isn't any real advantage to this, since Google is more interested in what stands after the domain name instead of the actual domain name, so instead try to keep it as simple as possible.
Also avoid dashes since it makes it difficult to remember the domain name.
Since you've defined your audience in step one you have a good idea if your customers are found globally or locally.
If your business is more local I strongly recommend using your country's TLD, meaning for example using .de in Germany and .fr in France. This will both help Google and the users to know which country your website is relevant for.
For a global business a .com domain makes the most sense, since it's seen as a global business by the search engines.
And remember, you can always add multiple languages to the website, which the search engine then can register and use to show your website's content in that country.
11. Choose a hosting provider
Your webdesigner should be able to advise your regarding hosting, but here's a few things that are important to consider.
If your website is relevant only in your country, you can save money by choosing a local hosting service with servers located specifically in your country.
For international websites it's important to choose either a hosting provider with their own CDN or extend your hosting with a plug-and-play CDN service like Cloudflare.
CDN stands for Content Delivery Network and essentially makes copies of your website and places them on all continents, so they load faster everywhere.
After these 11 steps you have a solid foundation to get an amazing website that suits your business and speaks to your target audience. You can now enjoy having extra time to create content, talk with customers and growing your business.